Many players deserve a tribute. Few actually ever receive one....
That's why I decided to make a virtual tribute to a deserving player by breaking the unofficial Guinness Video Game Record for "Most Pts Scored in a Single NBA Game" with the virtual help of Corey Maggette himself. Proof: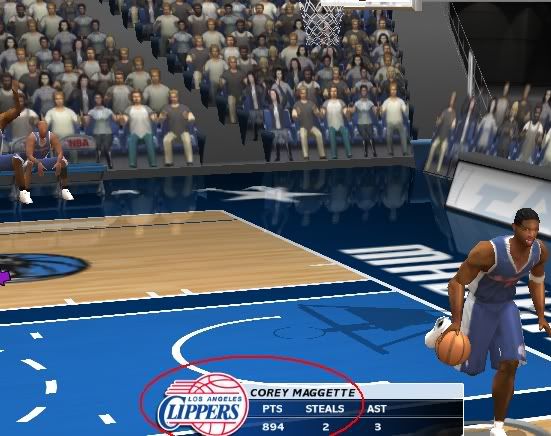 http://i50.photobucket.com/albums/f321/ ... 894pts.jpg
How?
Hard work. Consistency. Patience.
All of them - virtues Corey Maggette truly possesses.
That's roughly a 72-hour work. It's nothing compared to numerous sleepless nights of voting during the All-Star Balloting. Not to mention Maggette's offseason devotion to self-improvement. Corey usually takes a week off for a family reunion (max.). A week over the summer, total - weekends and holidays included. Nothing more.
Otherwise, he runs. He lifts. He shoots. He balls. He does it again the next day. Whether he's working with trainers or shot specialists, Corey's on the job. How can you not appreciate something like that? You want these millionaires to earn their keep? Well, Corey's out there, trying to bring his hourly wage down by working longer for the same dough. Try to find many folks in this country willing to do it.
And judging by his stats, he's working on just about e'rything. .
Corey proves that nothing is impossible:
http://i50.photobucket.com/albums/f321/ ... c_3001.jpg
Why?!
Because at least once in my life, I wanna see "Maximus" Maggette on top of all charts!
Corey Maggette truly deserves some credit for his hard work ethic, year in year out. C-Magg is a tireless worker, and really doesn't have a true off-season. But unlike Elton Brand, Corey still hasn't received the All-Star recognition he deserves.
Hope a change gon' come...
Regards,
The biggest Clippers fan overseas
P.S.
You may say it's edited with Photoshop or some. I can send you the NBA Live saves (DAT & DBF-files). Copy them to your "NBA Live\Saves" folder and when you start the game you'll see it's all true.