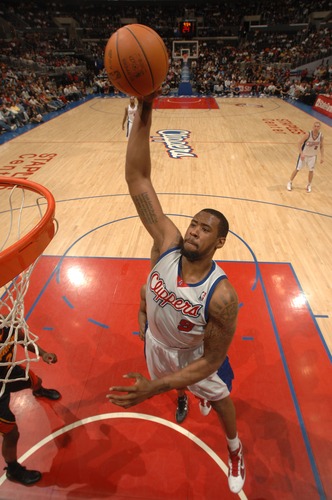 There was a media blitz the last couple of days on ESPN and every other sports outlet announcing the arrival of Chirs Paul to LA. Paul's press conference had a record attendence by the press for Clipper event. Many of the press want to annoint the Clippers as the new rulers of LA. Some want us to prove it first. Well, that starts Monday night. If we were using sport cliches from the past, we would say that "Showtime" is about to once again shine in LA. But that would be a Laker thing. So welcome to Lob City. One member of the press even asked Olshey if they were going to trademark the name. Our Lob City show is going to be better than Showtime. Sure, Magic Johnson was quite the show running the break. But it was nothing compared to what we are all about to experience. Sure they had fast breaks. But we will have fast breaks along with two high fly acts sailing above the rim for thunderous dunks as recipients of Chris Paul's artistic log passes. Lob City.....I like it.
Thursday night on every sports show including ESPN, they didn't talk about how much what we gave up in the trade. It was all about Chris Paul lobbing alley oop passes to Blake Griffin. It was all about how we are now the team in LA. It was all about how all the stars in hollywood who used to sit courtside at Laker games, are lining up to get their courtside accomodation for Clipper games. ESPN even ran a poll about which team in LA was the best. We have stolen their thunder. ESPN declared that we now have the "IT" factor. The Clippers are now hip and cool. The fans will want to come. Players will want to come. The hollywood stars will be drooling to be here.
Today, Chauncey Billups and Chris Paul, along with Caron Butler, will be in LA. Training camp will be a media blitz like LA has never seen. These 3 players represent a changeover in our starting lineup. Blake Griffin is the only full time starter from last season that still remains, with DeAndre Jordon slated to fill the last spot at center. Just try to get a seat for the scrimmage on Sunday. It will be crazy. The 2 preseason games with the Lakers now take on a whole new meaning. We are only 4 days away from tip off.
Things are so bad at Lakerland that Stephen A Smith proclaimed that Kobe Bryant will ask for a trade before this season is done. Wow.